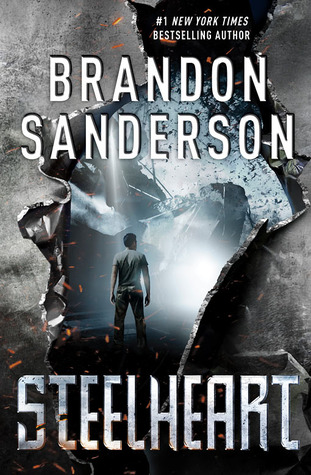 Ten years ago, Calamity came. It was a burst in the sky that gave ordinary men and women extraordinary powers. The awed public started calling them Epics. But Epics are no friend of man. With incredible gifts came the desire to rule. And to rule man you must crush his wills.
Nobody fights the Epics…nobody but the Reckoners. A shadowy group of ordinary humans, they spend their lives studying Epics, finding their weaknesses, and then assassinating them.
And David wants in. He wants Steelheart – the Epic who is said to be invincible. The Epic who killed David's father. For years, like the Reckoners, David's been studying, and planning – and he has something they need. Not an object, but an experience.
He's seen Steelheart bleed. And he wants revenge.
Steelheart, book 1 of the Reckoners trilogy, is Brandon Sanderson's foray into YA. And before you start saying that Mistborn was YA – it was not. Nope.
That said, there are a lot of similarities between Mistborn : The Final Empire and Steelheart. Which is understandable, since they're both about a crack team of badasses planning and trying to take down someone who seems invincible. They both feature societies ruled by all powerful but malevolent figures. Which is good, because The Final Empire was one helluva great book. (my review)
Of course, it's not just a rehash. Steelheart brings plenty of cool new stuff to the table. There's the Epics, regular people that have superhero like powers, but use them for evil. Brandon brings his epic fantasy worldbuilding chops to urban fantasy, creating a bunch of super awesome and interesting superpowers, weapons, societies and whatnot. He paints a pretty chilling picture of a dystopian chicago ruled by a bunch of ruthless Epics. It isn't as well crafted as his fantasy magic systems though. Mostly because instead of having one type of power, he's gone and created dozens of types of Epics. So they don't really fit together cohesively. Which is okay, because when have superhero (or villain) powers made any sort of sense? And there are the trademark twists that make surprise the hell out of you, but then make you go "Of course that happened, how did I not see it coming?"
But I knew Sanderson can nail worldbuilding and plotting already. What pleasantly surprised me was the protagonist, David. Steelheart being YA, it is narrated in first person, which seems to be some sort of unspoken rule of the genre. It being YA was also the reason I took my time picking it up, because I generally don't like YA stuff – Hunger Games felt okay at best, while Divergent I couldn't even get through. But I needn't have worried. Steelheart is fun. There's action, there's tension, there's mystery. Almost like a book version of Avengers in how popcorn crunchingly entertaining it is.
Anyway, David. He's a really well written character, which is good because most of the others are lacking a bit in depth. He's conflicted, he has baggage, he has his hopes and fears, his quirks, his metaphors. Oh my God, the metaphors. David's always coming up with outrageously bad metaphors. So bad they're funny. And it isn't like they make no sense – they do. They almost make sense, which is what makes them so funny. Loved it.
One thing that really nagged at me though was the swearing. The writer isn't comfortable with swearing, which I am totally okay with. Not all books have to have them. What I'm not okay with are lame made up swear words. So instead of damn, shit, fuck! we get Sparks! Calamity! 
Really, Brandon?  Sparks?
But that's a small niggle in what is a well crafted high adrenaline action story. I found myself flying through the pages, gripped from page one until I finally got to the end. I'm still reeling from how awesome the climax was.
So yeah, it may not be a life-changing piece of high literature, but it is fun and entertaining – as good as it gets.
My Rating : 4.25/5
---