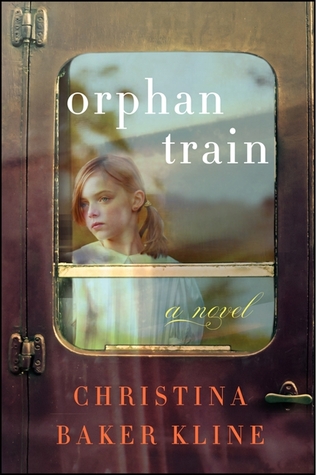 Nearly eighteen, Molly Ayer knows she has one last chance. Just months from "aging out" of the child welfare system, and close to being kicked out of her foster home, a community service position helping an elderly woman clean out her home is the only thing keeping her out of juvie and worse.

Vivian Daly has lived a quiet life on the coast of Maine. But in her attic, hidden in trunks, are vestiges of a turbulent past. As she helps Vivian sort through her possessions and memories, Molly discovers that she and Vivian aren't as different as they seem to be.
Disclaimer : Copy for review provided by Audible
Orphan Train is the story of two girls. Separated by time and age, but united by their common struggle to survive and fit into a society in which they are almost complete non-entities. The book alternates between Molly's story in the present, and Vivian's reminiscences of the past.
At first glance, it seems they can hardly have anything in common. But as I read on, I realised that though the setting was different, both Molly and Vivian had to deal with remarkably similar issues. The feeling of always being an outsider. The struggle to make themselves heard. The troubles of living with foster parents.
I was really glad that the audiobook had different narrators for the two viewpoints – it really helped to bring the protagonists to life. And Vivian's narration in particular is really well done. It beautifully conveys the shy little girl, a foreigner in a strange land, shy and levelheaded, trying to make the best of a bad situation.
The author has done a great job interleaving these two stories. And the writing is not overly dramatic. I liked how the words themselves were always understated, leaving us to feel the emotions and highs and lows for ourselves. And though the book has plenty of sadness and tragedy, on the whole it left me feeling happy and warm.
It was a joy to watch the blossoming friendship between a teenager and a 91 year old lady, as they helped each other. And when things do start to improve for Vivian, you can't help but be so happy. When Molly speaks up in class, I felt like cheering her!
But while the two principal characters were written really well and lifelike, the rest of them are cliches. The foster parents in particular. Both Molly's and Vivian's. They are almost caricatures in their stonehearted apathy. Particularly Molly's foster mom, Diana, seems to have a target painted on her saying "I'm bitchy and annoying, hate me!".
That's a small issue though, because the book is so moving in its other aspects. And the great narration. All in all, a sweet little book.
My Rating : 4/5